Home III
Home III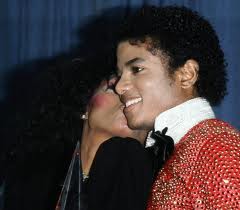 He smelled it even before he was awake, the heartwarming aroma of breakfast being cooked. Notably the smell of fresh bacon wafting in the air, he didn't even bother turning over as he already knew he was alone in the bed. Taking a few minutes to come to wakefulness, he imagined her in the kitchen. Still sleepy eyed dressed in her soft pink robe and slippers, cup of coffee at the ready on the counter. He had watched her so many times when he was young go through the same routine, but this was the first time he had been lucky enough to wake up in her bed to the smells of her cooking breakfast. The rumble of his belly finally beckoned to him to climb out of the warm cocoon he was immersed in and he took a quick trip to the bathroom to brush his teeth. Staring in the mirror he didn't think he looked worse for wear after the long night at the awards show the evening before but he decided to take a quick shower to freshen up. After stepping through he returned to the bedroom looking for his clothing and was puzzled when he was unable to locate them on the window seat where he had left them when he joined her after the party.  Wrapping the towel back around his narrow hips he walked out to ask her what she had done with them and was shocked to find that they were no longer alone.
Diana was in deep conversation looking troubled and confused. He overheard her quietly say,
"No, it's not the time. We need to give her a while before we tell her you are her father."
 It was then that Michael saw who she was speaking with and their eyes locked together both in shock and dismay. Diana had been so involved in the conversation she had completely forgotten that Michael may walk out at any moment and Berry might see him. Her face gave away the truth before the question was even asked and Berry glared at her with dark eyes.
"What the hell are you doing Diana; you can ruin EVERYTHING, everything you have ever worked for."
 Never feeling more exposed Michael didn't know what to do until he saw his clothing neatly pressed on the end of the couch. As he reached for them and hurried back to the room he heard her say,
"We're being discreet Berry; you should know how that works."
Michael's heart was beating out of his chest as he closed the door and walked to the bed. He was overwhelmed that their secret was out and that it was Berry who had discovered it. His head spun with the scene that had played out just moments before. Michael was taken aback at what Diana had said about Berry being one of the girl's father and that he had been caught spending the night after the party, it was all so much to take in. He felt like a kid again and wasn't so sure he was ready to play such adult games. 
Ten minutes later the door opened and Diana saw a wide eyed Michael sitting on the bed, waiting in anticipation.
"Come eat some breakfast, he left. His plane is leaving soon."
Wiping his perspiring hands on the towel and he followed her to the kitchen and took the glass of orange juice she offered hesitantly.
"What is going to happen? Do you think he will call Joseph?"
Pouring herself a cup of coffee, Diana mumbled under her breath,
"No, he ain't calling anybody."
Suddenly the bacon didn't seem appealing anymore, but she was and he moved towards her,
"I don't care If the whole world finds out about us, I don't care anymore. I want to be with you Diane, now more than ever."
Resting her head back against his chest Diana sighed,
"I wish it was that easy, but it would be the end of our careers Michael…and I have my girls to worry about too."
He wrapped his arms around her waist,
"I have some money now, Joseph didn't keep it all. I'll sing in Las Vegas, don't you know how much it kills me when I can't see you. I don't want to pretend with these other girls anymore."
His lips found the soft spot behind her ear and she bent her neck over as he slid his mouth lower,
"I wanna wake up to you every morning Diane, and make love to you every night." Her arms wrapped around his and she closed her eyes, dreaming of the possibility.
"You make it sound so easy Michael…keep talking."
Untying the belt of her robe he breathed seductively in her ear,
"How 'bout I just show ya; like I did last night?" Sliding his hand up, he cupped her breast, rubbing his thumb softly over her nipple.
A slight smile crossed her face and she whispered,
"That's a good start, show me more."
Diana felt his hand travel down, lifting up the edge of her nightgown before she felt the heat of his fingers against her thigh. As he spread his hand out his thumb parted her divide already sticky with her wetness.
"Mmmm, gah girl. You are so wet already." Diana reached down and placed her hand over his where he had begun to move it over her pulsing need. He felt her hips pushing and grinding and his own need began to press against her.
"Michael" she breathed impatiently, "Now don't you wanna?"
Diana's moan was more of a command than a question and Michael wildly pushed her robe and nightgown up over her hips. As she bent over the counter, Diana reached for his towel and flung it to the ground…allowing Michael to enter her all in one motion.
He still closed his eyes and shuddered when he felt her close around him. Sometime he thought if he just could stand still like they were he could think himself to an orgasm just by the sensations that she elicited in his body by being underneath him. But yet, he was compelled to move. To stroke her velvet softness, that also held him vice like when he glided back and forth inside her.  
Diana's moan brought him out of his bliss and as she forcefully brought her hips back into his as he bent over and pulled her close, forcing the top half of her body onto the counter.
"Ahhh Michael"
 Diana's cry echoed through the kitchen while he concentrated on trying to please her. Rotating his hips he felt her tremble with every forward plunge, until finally she shook with a massive tremor of delight. His shaft was slick with her juice and Michael rose up and drove into her, invigorated with her release.
"Diane, Mmm…gawd, I'm gonna come. You turn me on so much."
 He vaguely heard the slapping sound their thighs made as he moved against her and finally he released, just as he pulled out and let go covering the small of her back with his essence. Clutching the cabinets above her Diana struggled to breathe, her legs still shaking from their wanton session of love making.
Eventually she opened a drawer by her side and removed a hand towel and passed it to Michael.
"Are you still hungry?" , she asked casually.
"Not for breakfast."
Michael replied as he took her by the hand and led her back to the bedroom, her pink slippers scuffing along quickly behind him as she hurried to keep up.
________________________________________________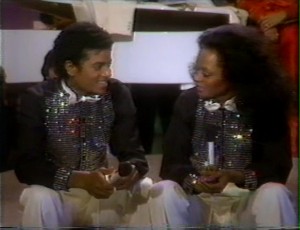 Michael bounced up and down waiting on the cue. He could sense her out of all the crowd standing above him and it had to be perfect…absolutely NO MISTAKES. They were both dressed alike in pure white, their shirts as sparkling as they both felt inside.
Did she just say sexy…SEXY in front of all those people? Oh my god…he just said it back! No, never mind, she's like his Mother. Yeah she is dating that Gene guy anyway.
The whispers of gossip filtered out and were forgotten with the extras….
_________________________________________
Did he hear her right?  She wanted him on the stage, at her concert. Oh god…he wasn't dressed for it, but he was going up there anyway.
Boy….you turn me inside out and round round
Awww look how cute they are together….Michael has really gotten handsome huh….that Diana she crazy, look at her tryin to dance with him
The happy crowd smiled and cheered as the stars embraced in front of them, unaware that they had been lucky enough to witness a treasured moment that would one day be relived over and over again by their fans.
_________________________________________________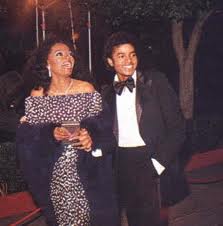 Diana checked her makeup one final time,
"Ok are you ready?"
"Sure, of course. Let's go."
Michael stepped out of the car and turned around for her hand. It only took a moment to walk down to the press line and Michael stood patiently by as Diana answered questions from the reporters stationed along the red carpet. The thrill he got when she called him her date was intense and embarrassing but nothing compared to the kiss that came after. THAT was spectacular. It was such a great night, oh and he met Brooke Shields too. She seemed like a nice girl…
_____________________________________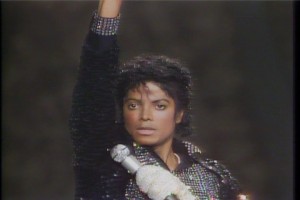 "You are all over the papers this morning and television too."
Diana held the phone to her ear and took a sip of her coffee.
"Yeah, I hear."
"Michael, aren't you happy about that?"
"Of course Diane, it's…it's just that I haven't seen you since that night and it was so crazy. My life is so crazy. I miss you."
"I miss you too, how are rehearsals?"
"Don't ask…"
"That bad?"
"Do you have to ask me? You know my brothers and you know I don't even want to do this."
"I'll see you when we cross paths…"
"I know"
"I'm proud of you Michael, really proud of you."
He paused before answering…..
"I knew you would be."
________________________________________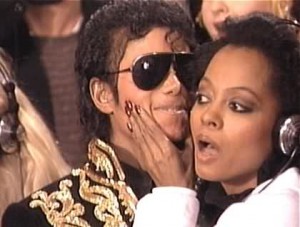 The studio was full of stars but he couldn't help but gravitate to Diana. She knew he was excited about the event and made sure she was there to lean on in case he needed her.
They helped millions of people with one song that night and when they left the studio they finally got to help each other.
_________________________________
He had his hands full of her all spring. Finally everything was working out, neither one of them were touring and they were both in the studio. Michael had even helped her with another song for her album.
He just knew that all the endless talking between them about being a couple could finally cease and now they could just be together. No more talking, just the two of them and the kids as a big happy family.
Michael loved being in Connecticut, it felt so right to be there with her. Something as simple as watching a movie made him feel at ease. Even though the Nanny was there he finally held her close and didn't care, the plot of the movie getting lost in the distraction that seemed to play behind his eyes. His plan would be perfect, Diane, the girls and him in Miami for a long week before she started recording the single…he would ask her then. Give her the ring then. Kissing her lightly on the side of her lips in the dark of the room he silently pledged his heart to her forever.
________________________________________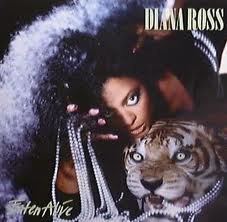 Diana tossed the lyric sheet on top of her clothes and closed the top of her suitcase.
"I think that new chorus will work great on the single."
Michael caught her arm and pulled her back on the bed,
"So, that means you will tie me to a tree then?"
Straddling him she brought her lips down on top of his and kissed him feverishly before she finally said,
"Can I tie you up right now?"
"Oh god…Diane, girl that's embarrassing."
Reaching down she felt his growing member and said,
"I think you would like it, you can't play that innocent crap with me anymore."
She hadn't stopped manipulating him and he closed his eyes, a slight grin on his face,
"You don't want to be my slave Michael? That's what you wrote?"
Biting his lower lip he groaned and pulled her tight,
"Mmmm, you keep that up and I will be anything you want me to be."
Hastily she pulled her panties aside and mounted him, arching her back as he slid up and inside her body.
"Uhhh ah, you're so amazing…."
"You like that?"
His eyes opened and he stared into her face, he wanted to give her everything he had. Take care of her, cherish her, spoil her…
"I love you….Diane, I love you so much."
It shocked her for a moment, she didn't know if it was the words, the way he said it, the look in his eyes…but it shocked her. He had told her over and over before but this time it shocked her…and frightened her too.
"Michael, I know….I know."
He was so vulnerable, he had put everything… his whole being out there for her and she just couldn't take it.
Burying her face in his neck she moved on him with renewed vigor. She just had to make him stop thinking about his emotions and just remember how good they felt together.
It wasn't long till he cried out to her in ecstasy and she was able to relax and join him in her own release. He didn't say it again until she walked out of the door; he figured he would save up his declarations of love for the big moment. After all this time she would finally be his and at last the world would know it.
________________________________________________
The suite was filled with White Lilies; he hoped that she would remember when he sent them to her on her last day of filming The Wiz. He checked the safe and the ring he bought her had been safely tucked away just waiting for her to arrive. He was glad that she had taken a few days with the girls in The Bahamas and didn't even mind that she was late arriving in Miami, he honestly expected them all to come bounding in the room any moment full of hugs and presents from the islands.
The Herald was under the door and he pulled out the entertainment section interested to see what the nightlife had going on at the moment on Miami Beach. He caught his breath looking at a photo of Diane, looking very happy and content next to a man while vacationing in the islands.
He knew then that she wasn't coming, he knew then that the ring would never have a home…he knew then that he would still wait on her until the weekend was over just in case but he would leave alone and heartbroken.
_____________________________________________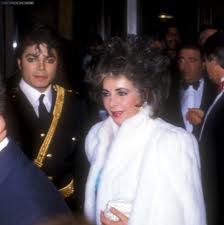 "Who cares if we are late darling, you look magnificent."
Elizabeth put her arm through Michael's and waited for the doors to open during a commercial break. The murmur of the crowd was clear to them as they were escorted to the front row and they took their seats.
Diana was a bit intimidated when she saw him, she could see the hurt and anger on his face. But it was his eyes; they were dead…at least for her. The love he had for her was gone and in its place was an overwhelming sadness.
Calling him on stage was traumatic for them both, somehow they managed to be professional and at first glance no one seemed to notice the change.
Until he didn't go to her fairy tale wedding, the gossip columns were abuzz with the story of Michael refusing her invitation. But nothing compared to the buzz when his album debuted and a song appeared on it, a song with her name in the title….
"Dirty Diana….."
_____________________________________
And so he found himself the most famous man on the planet.
Rich, handsome, talented beyond belief…but heartbroken and only a few knew…in utter despair.
He had been left unable to trust his feelings to anyone, and was now someone without a Home.
 ….until he saw the girl with the green eyes standing in the rain.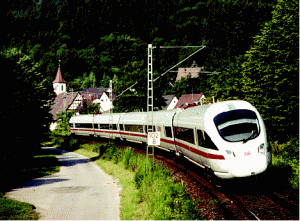 Please Rate This Chapter Below