After The Show: II
After the Show: II
(Break of Dawn)
 
Written by SizzlinStarFish aka MJ Spuffy Fan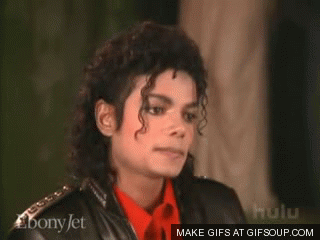 When I woke in the morning, I felt stiff and achy all over.  But the hurt was nothing compared to what it felt like to wake up and not feel him by my side. 
I didn't want to open my eyes, for fear that my body's aches and pains would fade away, and last night would have been nothing but a dream.  Oh, who was I kidding?  A night in bed with Michael Jackson?  That was merely one of my fantasies.  No way in Hell it actually happened, right?
I frowned, and my eyes slowly fluttered open to the harsh light of the morning sun.  The aches and pains didn't go away, and I sat up slowly in bed, letting the sheet fall from my body.  I was naked.  And the side of my bed that was usually unoccupied was now crumpled, and the sheets held a trace of the cologne he'd worn after the show last night.
Oh my God.  It really happened.  I had sex with Michael Jackson.
The elation that filled me was quickly replaced by sadness, as I realized I was alone with nobody to talk to, and I couldn't even call my closest friends to tell them what had happened.  That one night only existed between the two of us, and now…now it was gone forever, to be left as a silent memory in my heart.  And I was never going to see him again.
I slowly peeled myself out of bed and made my way to my bathroom.  As groggy as I was, I didn't even notice the fact that the door was shut, when I always left it open. 
When I staggered inside, my eyes widened at the sight of steam filling the room.  The sound of water splashing and going down the drain was also obvious.  Then came the sweetest sound of all:  Michael's voice.  He was singing.  In my shower!
"Hey pretty baby with the high heels on.  You give me fever like I've never, ever known!"  My heart skipped a few beats, and I found that I was holding my breath and gripping the sink to keep from melting into a puddle on the floor.
I must have been breathing quite heavily at that point, because his wet, soapy fingers pulled back the shower curtain, and I stared dumbly at his naked form.  He smiled at me with that perfect, pearly-white smile, and I trembled.
 "Good morning," he smiled, covering himself a little with the wash cloth.  Not like I hadn't already seen that glorious cock of his, but I couldn't help but find it adorable that he was suddenly somewhat shy this morning.
"Morning," I said slowly.  "I…didn't think you'd be here."
"I overslept," he admitted.  "That's ok, right?"
"Yeah," I said with a smile, biting my lower lip.  "I don't mind." 
"What time is it?" Michael asked.  I ducked my head out and peered at my clock on the wall.
"Nine thirty," I frowned.  "When do you have to…"
"I should probably go after I'm done in here," he said quietly.  Was that a frown on his face? 
"Oh.  Ok.  Um.  I can make you breakfast…if you want."
"It's ok.  I have rehearsal today.  I usually eat when I get to the studio."
"Oh.  Ok," I said with a little nod.  "Just, uh, don't worry about picking up the towel or anything.  I'll get a shower when you're done."  I turned to leave, but Michael reached out to me, placing his hand on my shoulder.  It was then that I realized I hadn't even bothered to put on a robe.  I was stark naked in the bathroom.  With Michael Jackson.
I turned to face him, blushing this time because of my realization.
"I'm using all your hot water," he pointed out.  "Why don't we share the shower?"
"Huh?"  I realized I was probably gaping at him like some doe-eyed virgin, and he smiled a little.  "You want me to…"
"Not if you don't want to."  Well, hell!  I'd already fucked the man three ways from Thursday.  There was no reason to be shy now!
He moved aside, and I stepped into the shower awkwardly, grabbing onto his shoulder as my feet slipped against the wet porcelain.  He smiled and wrapped his arms around my waist to steady me, and I immediately went in for a kiss, pulling the shower curtain shut behind us. 
Without thinking, I pushed him up against the wall, and the hot water showered down my back as I attacked him with kisses, my hands sliding over his slippery chest as my tongue darted into his mouth, tasting the fresh mint of my toothpaste. 
Why was it that at that very moment, when I had my tongue down his throat, I was giddy at the thought that Michael Jackson had used my toothpaste?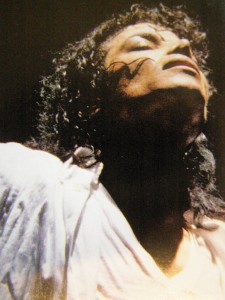 "Slow down, girl," he chuckled, as my hands began to move south.  He took my wrists in his hands, and he pushed me back a little.  My hair was getting soaked by the stream now, and I blushed as I stared at him.  He smiled back, and he then came toward me, pulling me in his arms, kissing me passionately as we stood beneath the streaming water.
"Sorry," I murmured, reaching down to cup his perfect ass in my hands.  "Just wanna make the most of this while I still have you here."  I bit his lower lip, and he moaned, as one of my hands traveled round to stroke his semi-hard cock.
Michael's hips bucked toward me, sliding his cock against my palm.  I smiled slyly and kissed him again, this time closing my hand around his member and beginning a steady rhythm.
He groaned aloud and pumped his hips in time with my strokes.  I smiled, leaning in to kiss him again, and Michael trembled as I began to kiss my way down his neck and chest.  He hissed inwardly when I began to lower myself to his knees, letting the stream of water wash off what was left of the soap on his body. 
Devilishly, I looked up at him, my blue eyes piercing his soulful brown ones. 
"You might wanna hold onto something," I grinned, as I slipped the head of his cock past my lips.  He grabbed onto something, alright.  He ran his fingers through my wet hair and clenched, and he pressed his other hand against the wall for balance. 
I groaned when I felt him tug my hair a little.  So, he was a hair puller, huh?  I never would've guessed that!  My sexy, sweet, almost virginal King of Pop had a little kink in him, and the thought made my clit begin to throb.
I hummed softly as I took his cock as far into my mouth as possible without feeling the urge to gag.  He groaned at the vibrations that moved through his cock, and I cupped his balls, giving them a little squeeze. 
His knees buckled a little, and I pulled him down into the tub, straddling his waist, feeling his cock sliding against my slick pussy. 
"Sorry," he whispered sheepishly.  I smiled, shrugging my shoulders, leaning forward to kiss him softly.
"It's ok.  Scoot up."  Michael scooted so he was half sitting, half laying in the bath tub, and with what little space I had to move around in, I stood and turned my back to him, this time straddling his chest and then leaning forward to take his cock into my hands. 
His hands were on my ass, slowly spreading my cheeks, and I groaned, when I felt his tongue flick against my pussy.
For a moment, I realized that this was my first attempt at a sixty-nine position, and it was with Michael Jackson.  Yeah, I was pretty much the happiest girl alive at that second.
I flicked the tip of my tongue over the head of his cock, watching that light brown monster twitch at the sensation.  I rolled my hand up and down his shaft, as he began to rub my clit and inserted two fingers inside of me.  I bucked against his hand and sucked his engorged tip into my mouth, swirling my tongue around and around until I heard a moan squeak out of him.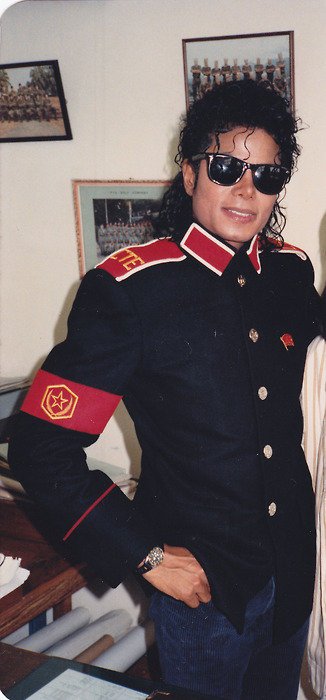 One hand massaged his thigh, while the other pumped along with the bobbing of my head as I swallowed him and teased him with flicks and rolls of my tongue.
He inserted another finger, and I clenched around him, moaning around his cock as he fucked me with his hand.  He groaned along with me, as I continued teasing him with my tongue. 
Before too long, I knew that if I didn't stop, he was going to cum, and I wanted to make this last as long as possible.
I wriggled away from him, pulling at the sides of the tub so I could stand up.  Michael, still laying down, looked up at me, completely perplexed. 
"C'mon," I said mischievously, carefully stepping out of the tub and reaching for his hand. 
"We're all wet."
"Yeah, you have no idea," I laughed, when he reached out.  I pulled him up, and he stepped out of the tub.  I grabbed a towel, and I quickly began to rub it all over his glorious body, paying extra attention to his abs, which seemed even more defined this morning.  I traveled south, gently drying off his rock hard erection, and I watched his eyes roll back at the sensation. 
I handed the towel to him, and he quickly started to dry me off, and I was surprised when he stepped behind me and began to kiss my neck and my shoulder as he lowered the towel down my body before letting it drop to the floor.
I wriggled out of his arms and started down the hall, but I was surprised when he caught me in his arms and spun me around.  He bit his lower lip and grinned at me, taking my hand in his, lacing his fingers with mine.  Such a simple gesture made my throat close up a little, but I would not spend what I knew would be my last minutes with Michael crying or pining over what could never be.
He held me there in the hallway for a few moments, gazing into my eyes.  He was so gentle and sweet, and at the same time, I could see so much pent up inside of him.  He had so many desires, and I wondered if he was maybe too afraid to act them out.
"You have to go soon," I murmured, trailing my finger down his chest idly, trying not to sound like I was pouting.
"Yeah," he said with a little nod.  "But not yet."  He pulled his arms around me, pulling me tight against his body, and I gasped a little, partly from his boldness, partly from the sensation of his erection pressed against my stomach.  And then he kissed me, his lips caressing mine as softly as silk sliding across my skin.
"You feel so good," I whispered against his mouth, opening up to him.  He slid his tongue past my lips and caressed my tongue.  I moaned softly, closing my eyes as I let the feeling wash over me. 
"So amazing," he breathed, as his hand slid down my back and over the curve of my hip.  I pressed harder against him, shifting a little, letting the friction between us make his cock twitch between us.  "You're beautiful."  I blushed and shook my head.  "Thank you.  Last night…and this?  It means a lot to me."  He kissed me again.
"Me too," I murmured.  "More than you'll ever know."  He kissed my forehead now, and I buried my face against his throat, taking in the scent of him, kissing him there, not wanting to let him go.
But then he pulled away, and my heart leapt into my throat.  Maybe this was it.  Maybe he was leaving me now before we both got too carried away. 
"I need to make a phone call."  My jaw dropped.  He was standing there, naked as a jaybird, completely hard and ready for sex, and he wanted to make a phone call?
"Uh…ok?"
He just smiled at me.
"Trust me," he murmured.  "I'll meet you in the bedroom." 
I could have started purring at that moment, but I numbly turned around and practically floated back to my bedroom.  I couldn't even remember laying down on the bed, but a few minutes later, Michael came into the room and strode over to the bed, getting in next to me, immediately rolling to his side and caressing my thigh lazily with one hand.
I turned to look at him, and the rest of my body followed suit.  We lay close together, very still for a few moments, and his hand moved to slide down my back again, and I trembled.
"What was that all about?" I wondered.  He grinned at me and leaned in to kiss me.  Then, he began a trail down my neck and my collarbone.
"I called my manager," he murmured between kisses.  "Told him I got a late start this morning."  His rolled me onto my back and climbed atop me, moving down my body, his mouth attacking my breasts with kisses.  "Told him we'd have to reschedule rehearsals."  His tongue circled my hardened nipple, and I groaned, gripping his strong arms.
"You…don't have to go?"
"I'm all yours until tomorrow."  Oh.  My.  God.
My heart nearly burst, and though I wasn't sure if I'd heard him correctly, I responded with a kiss that nearly rolled us both onto the floor.
Michael chuckled, and he boldly settled in between my legs, staring down at me and caressing my ribcage with his strong fingers.  I groaned softly and thrust my hips toward his, wanting some relief from the burning desire that was radiating from my glistening core.
"You say you've never done anything like this before," I chuckled, when he flicked his thumb over my nipple. 
"I haven't," he breathed, kissing the valley between my breasts.  "You just bring out a part of me I guess doesn't come out very often."
"Well, it should," I giggled, kissing his neck, sucking on his Adam's apple.  "But it shouldn't be any surprise.  The way you thrust your hips on stage?  No way in Hell you'd be bad at it."  My fingers gripped his hips, and he began to grind against me.  "Unh…"
"You've taught me a lot," he chuckled.
"Oh great.  That makes me sound really good," I laughed, playfully swatting his arm.  He laughed, and it was music to my ears.  His lips were on my neck again, and I knew I was going to get a hickey.  I made a mental note to take a picture of it after Michael was gone.
"No, I mean…you're the only one I've been with that makes me feel…"  He stopped there and cocked his head a little, brushing the hair out of my face. 
"Feel like what?"
"I dunno.  Wanted, I guess."  I sighed softly and kissed him.
"You are wanted.  Yeah, maybe I've had fantasies of having wild monkey sex with you a million times, but the fact that you actually wanted me?  I never…well, I didn't think that could ever happen."  Michael wasn't laughing, despite my cleverly inserted attempt at lightening the mood before dropping the drama.
"You're beautiful.  And you make me feel good about myself."
"Whoever you did this with before," I said slowly, "they didn't treat you right."  Michael looked as if he was about to distance himself, but I held onto him.  Considering his cock was pressed against my entrance, there was no way I was letting him go without getting another go at that.  "Hey.  It's ok."  I kissed him.  "I'm happy I made you feel good."
He just smiled at me, and he leaned forward, kissing me once again.  I was silent now, save for the soft gasps he drew out of me when his teeth grazed along my shoulder, and when he spread my legs a little wider and sunk into me, I cried out, burying my head against his shoulder as we both adjusted.
"Michael," I whispered, closing my eyes shut tightly as I let his rhythm over take me.  I arched my back, opening myself up to his touches, his kisses. 
His tongue danced around one nipple and then the other, giving it equal attention, before he placed his hands along my ribs and kissed down to my stomach, all the while managing to stay inside of me, pumping away with those skilled hips.
"Oh God," I groaned, closing my eyes and thrusting my hips in time with his, letting the rhythm of our bodies guide us through this dance.
His lips were caressing my shoulders again, and then they were over mine, parting my lips, seeking access for another sweet kiss.  I gave in and wrapped my arms around his strong shoulders, feeling the cords of his muscles moving as he moved inside of me.
"Please," I murmured, kissing his face, whimpering as he plunged in and out of me, picking up speed.  I placed my hand against his chest, feeling his heart pounding there.  His breathing was ragged.  All I could hear were those gasps mixed with mine, and it was the most erotic experience of my life.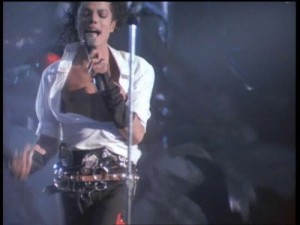 He pulled back a little, framing my face with his hands as he stared into my eyes.  I felt like crying as he smiled gently and kissed my forehead.  He swallowed hard, closing his eyes, and he buried his face against my shoulder.  I gasped as he placed his hand between us and circled my clit with his thumb.  I moaned loudly as he brought me closer to completion, and within a few moments, I was crying out, as was he, as he came inside of me. 
He collapsed on top of me, and he started to roll away, but I held onto him, hooking my ankle around his leg and wrapping my arms protectively around his shoulders.
"Don't go," I whispered.  "Not yet.  Please.  Not yet."
"I'm not going anywhere," he breathed, kissing my shoulder.  He shifted his weight, and we lay together, staring into each other's eyes for the longest time.  I knew he could see the tears in my eyes, but I wouldn't let them fall.
He just smiled at me, and he brushed his thumb against my cheek.
We spent the rest of the afternoon in each other's arms, cuddling and talking about everything and nothing at the same time.  We made love, slowly, as if we'd have moments like that every day for the rest of our lives. 
And in the morning, I woke to an empty bed and a hole cut out some place deep inside of me.  I ached for him, and I knew that it was silly.  I was lucky enough to have simply had those precious moments with him.
But when I slipped out of bed and into the living room, I found a note waiting for me, taped to the door.  With tears in my eyes, I stepped toward it, lifting it into the light so I could read it.  In his handwriting was written:
Each Time The Wind Blows
I Hear Your Voice So
I Call Your Name
Whispers At Morning
Our Love Is Dawning
Heaven's Glad You Came
–         MJ
A knock came to the door, and my heart swelled in my chest.  I threw it open, and lo and behold, there he was holding a dozen roses.  It was then that I knew.  This was so much more than I could have hoped for.
Song Credit: I Just Can't Stop Loving You – Michael Jackson